Bonhams Goodwood Sale
1961 Aston Martin DB4 GT Zagato "2 VEV"
This coming Friday the 13th of July (with "13" becoming a favourite number to many recently) may be lucky for some who will bid for this Aston Martin DB4 GT Zagato "2 VEV". The car had been shown around the world since early this year by Bonhams and will finally be for sale during this coming Goodwood Festival of Speed week. Judging by the looks of this gorgeous sports car, it is incredible to find out that during its period, it was a hard-sell.
Since its official launch at the 1960 London Motor Show, it took in fact nearly two years before they could locate the final buyer (who paid much less than the then nearly 5,500 pounds sticker price) for the last one made—even though they built only 19 of them during that time!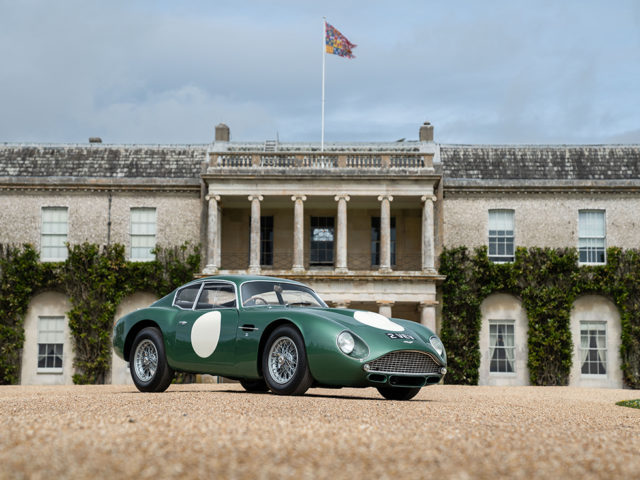 So why was the Zagato not so popular or why didn't they make more of them (although they did produce six more "Sanction II" and "Sanction III" cars in the much later years to make up the total 25 required as per regulation)?  Special edition Astons, either vintage or contemporary, are part of several discerning collectors' wish list and can command quite a sum. So in such a category the DB4 GT clothed by Zagato is highly regarded as one of the most beautiful Astons ever conceived. But as the purpose of the car was to go racing in the beginning of the Sixties, it may be not be about having the prettiest car in the pit lane but more about having the quickest GT on the track.
You have to remember that back then if you wanted to do some serious top-end motor racing with a road-going "grand tourer", you had to dig deep and get yourself either a Ferrari 250GT SWB or the later 250 GTOs. They were lighter, more developed as a race car than as a road one and came with 12 cylinders of grunt. Or if you were looking for more bang for your buck, you could consider the latest Jaguar E-Type in lightweight form for 1962 that came at around half the price of the Aston.
Aston Martin had officially withdrew from sports car racing at the end of the 1959 season after claiming overall victory with the DBR1 at Le Mans. With a rather botched attempt at Grand Prix racing as well with the DBR4 that year, David Brown, the then patriarch of the British marque still harboured thoughts of keeping the name in the international racing scene. After all, the British sports car entries for the 1960 to the 1962 seasons were a bit barren. The Jaguar D-Types were getting on and the XKE wouldn't come on the scene until the 1961 Geneva Motor Show (and only as a road car). Colin Chapman was far too busy with Lotus in Formula One while AC Cars didn't have any racing programme to speak of and the AC Ace was about to be put on steroids and "Americanised" into a Cobra by Carroll Shelby in the later years. So it appeared that Aston Martin was the only one left to keep the Union Jack flying!
Already producing the lightweight GT version of the Superleggera-bodied DB4 road car, Brown went further and commissioned Zagato to clothe the car in the hope for it to be an even lighter, sleeker and more nimble competitor. In only just a week, one of Zagato's young rising talent, Ercole Spada, used all of his experience at twenty-three years of age to pen a totally new shape—which immediately looked the part like a true racing car, as it turned out. Although there was the absence of the signature 'double bubble' top like most Zagato-designed cars, the DB4 GT was now more free-flowing and devoid of noticeable straight lines. It was built entirely on paper-thin alloy sheets (it is understood that you do not even try to lean on the DB4 GT Zagato to avoid literally miss-shaping the darn thing) to give the car further lightness.
Upon completion the road-registered "1 VEV' and "2 VEV" were among the first completed Zagatos immediately sortied by Brown.  They were sold to John Ogier's Essex Racing Stable for the latest 1961 season. Patriotically painted in British Racing Green, Ogier's team was more of a semi-works rather than a private entrant, receiving much factory support from Newport Pagnell. Both Astons' (with chassis numbers 0182/R for "1 VEV" and 0183/R for "2 VEV", respectively) debut was at no less than the 24 Hours of Le Mans. But lack of development time, particularly with its straight-six cylinder 3.7-litre engine, meant that both cars had to retire with blown head gaskets after around very much the same time after only three hours of racing, with Australians Lex Davison and Bib Stillwell in charge of driving the "2 VEV".
0183/R has had pretty lacklustre life during its two full-season of racing during 1961 and 1962. Although it did achieve a minor victory at the GT support race during the '61 British Grand Prix, the other results were pretty much a series of finishes in the lower order, retirements and accidents. This is in spite of an engine change to a 4-litre unit and being driven by Jim Clark. The '63 and '65 F1 World Champion drove "2 VEV" twice at the Goodwood Tourist Trophy in both years, finishing fourth in 1961 and retiring after a collision with John Surtees' GTO a year later. As with nearly all racers from that period, "2 VEV" continued on competing at club events, historic races and went through three restorations. The last one meticulously returning the Zagato back to how it originally turned out, including the 3.7 litre straight-six powerplant.
So why all the fuss with the "2 VEV"? Rarity aside, it may have to do with the fact that it was a little under-appreciated in its heyday. True it did not have that much of a sterling racing history but that could be the whole point of it all (plus it was driven by the likes of Clark after all, along with  1967 Grand Prix World Champion Denny Hulme, Lucien Bianchi and Tony Maggs). It may also be because the car has been under single family ownership for over forty seven years. Thus the idea that it is about to change hands for the first time in nearly five decades would make it a big deal in the car collecting world. For any car that looks like an Aston Martin DB4 GT Zagato, it is extremely hard to let go to somebody else.
All Photos Provided By www.bonhams.com