Grand Touring Man at
#Dastreffen3
2018 had its ups and downs, but overall it was an OK a year as things sort of cancelled each other out. Having said that though, most of my traveling plans to visit some of the best motoring events around the world were curtailed somewhat, but these things happen. But before the year was about to come to a close, there was one other major show left that I was looking forward to—and which conveniently did not require for me to travel that far to get there.
#Dastreffen3 was held from the late overcast afternoon and well into the night on the 14th of December at Bangkok's Impact Speed Park. This third annual installment now billed as the, "Coolest Ever Porsche Gathering in Thailand", is the brainchild of the team from the GT Porsche Magazine Thai edition and which fortunately rounded off the automotive year quite nicely as it turned out.
Since its inception back in 2016, the event has appeared to gather pace in terms of popularity and attendees, judging by the sheer variety of Porsches from vintage 356s and 911s to their contemporary water-cooled and transaxle cousins such as the latest 991 and 718 models who turned up this time. Even more so than last year, there was a bigger group of Porsche owners from neighbouring Malaysia taking part as they began their journey from Kuala Lumpur a few days earlier, braving through the foul weather that besieged them in the southern part of the country.
There were many appealing highlights during #Dastreffen3, particularly with the fact that it was staged this time right on the Go-Kart track rather than at the parking spaces of Impact Speed Park as in previous years. It made the entire atmosphere that much more pleasant as one got to see streams of Porsches flowing in constantly like a pageantry from as early as three in the afternoon toward the evening as each took their places within the area. Also important was that rather than seeing the cars as one huge static displays, you can get to enjoy the sights and sounds of Porsches from different eras as they weave about around the track to find their respective spots throughout the entire proceedings.
Dotted around the circuit aside from the cars were the "flea-market" stands offering Porsche-related displays, knick-knacks and accessories, as well as the ever-present food and refreshment trucks providing the much-needed sustenance for the crowd to last well into the late night.
The "Coolest" part for me when attending Dastreffen each year so far, would have to be the appearance of several local Porsches which I have yet seen before, either from part of a collection that the owner decided that it was time to bring it out for show or the recently restored vintages (some at the very last minute!) that were now ready to make their debuts.
Among the featured cars that caught my attention (and also by many others) was the immaculate Porsche 356  Speedster 1600 over by the AAS Auto Service stand—the official distributor for Porsche in Thailand. This particular example headlined this year's celebration of the Speedster name as almost all of the rare 911 Speedster series in Thailand were out in force, from the 930s with the curvy Turbo-Look, the 964s and right up to the 997 Speedsters.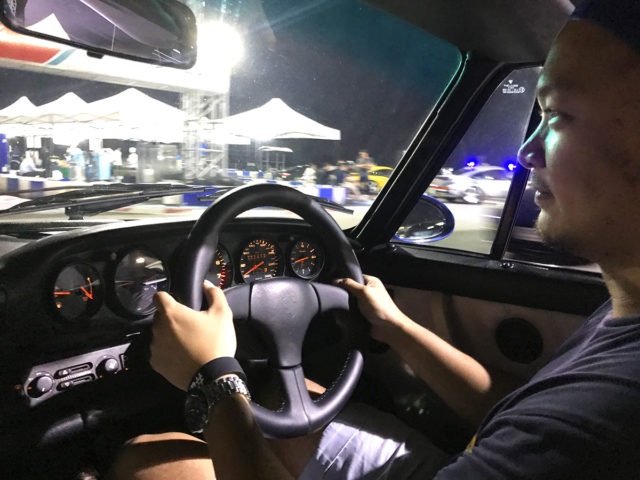 Right across from them was a very nice selection of the 964 Targas and Cabriolets. Of these, one particular car that I took a fancy to was the 1993 Porsche 964 Carrera 4 Cabriolet of Kanagorn Hoontrakul. Made during the model's final year and recently acquired by the owner just before the show, I may have been attracted by its Cobalt Blue original paint with Light Grey interior. The attraction may have been strong enough for Kanagorn to be made aware of, to the point that he allowed me to take a ride breezily around the circuit in it!
As for the earlier Porsches that had completed their restorations, Paul Kanjanapas' 1967 horn-grill 911 Short Wheel Base finished in Leaf Green was a stand out. With a matching interior also refurnished in green, the car has an interesting history of being converted into a more modern 964 for a while, before Paul decided that it deserved to be returned back to its original form.
Another 911 that was also a favourite was the 1971 car that was modified and tuned as a 1973 RSR-R that belonged to Tira Sosothikul. Nicknamed "Excalibur" and resplendent in Arena Red, the RSR is bathed with a whole host of features including a beefy 3.8 Litre engine, G50 gearbox and updated suspension and brakes. What captivated me more though, was that it made the right kind of noise when it needed to!
With so much interests and anticipation increasing each year that I saw for myself , it seems conceivable that Dastreffen, with the right content and broader features, may be destined to be the "Coolest Ever Porsche Gathering" not only for Thailand's Porsche enthusiasts but also for those  globally. It would be great if that was to happen. Because then I would not have to go that far to attend a world-class event when it is right here at home.
All Photos Author's Own (unless otherwise stated)