Ahead Of The Classes
This year saw some of the best and most beautiful cars that have changed hands around the world—particularly Ferraris of course, as 2017 being their 70th Anniversary. GRAND TOURING will be planning a recap a selection of many of these notable cars that were sold across the auction blocks and the incredible prices that they achieved later in the year. For now, we want to look forward to a lot more amazing automobiles that will be coming up for sale in the New Year.
Bonhams, one of the perennial auction houses who did not do too badly this past year, have already begun taking consignments for their first major sale of 2018. To take place at the picturesque Westin Kierland Resort & Spa on the 18th of January, Bonhams will be holding their seventh annual Scottsdale Auction in Arizona and like in previous editions promises to be another memorable one.
One of the main highlights of their first scheduled event will undoubtedly be this one of the last built 1958 Porsche 550A RS Spyder, chassis no. 0145. What made this particular racer a stand-out among the only 40 that were ever made is its competition results that will forever etched into Porsche's own racing history. Built to "RS" specification, it retains the 1500CC flat-four air-cooled engine as the other 550s but was tweaked with a revised space-frame chassis with trailing-arm suspension. Coupled with several other improvements, #0145 was constructed by the Factory to be a lighter, nimbler—and faster Spyder—than its 550 predecessors.
Slated as one of four official "works" Porsche 550A racing cars, this Spyder was campaigned during the 1958 season as an entry of Dutch nobleman and regular Porsche amateur racing driver, Baron Carel Godin de Beaufort. Co-driving with German racer Herbert Linge, both drove this 550A to second place in the 1.5 litre class at Le Mans 24 Hours and with the baron racking up Class wins in all the other sports car races it entered at Nurburgring 1000 Kilometres, the 12 Hours of Reims and Goodwood Tourist Trophy with several other co-drivers. In addition to all of these achievements, it is believed to be the only 550A to take part by de Beaufort himself against Grand Prix cars—at the 1958 Dutch Grand Prix at Zandvoort!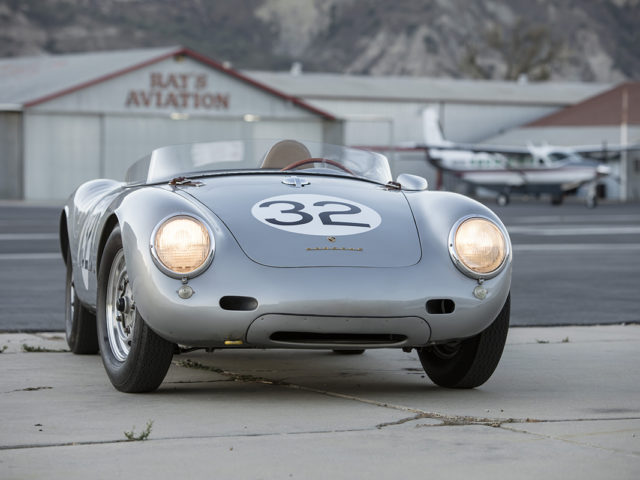 After the end of its racing career, this Porsche 550A RS Spyder was subsequently sold to a new owner in the U.S. where it stayed there for a number of years before it returned to Europe and has been seen in quite a few outings at the Mille Miglia retrospective event. Now sporting No.32 as it did in period at 1958 Le Mans race, it will be interesting to find out how Chassis No. 0145 will fare in Scottsdale and how much it will set the tone for classic racing car values for the rest of this coming year.
For more information, go to: www.bonhams.com
All Photos & Video Provided By Bonhams/P.Litwinski (except where stated)