Bonhams Auction
at
Greenwich Concours d'Elegance 2018
Next month's major automotive event in the United States will remain on the east coast at the annual Greenwich Concours d'Elegance during the 1st to the 3rd of June at Connecticut's Roger Sherman Baldwin Park. From 10AM onward, one of the event's main attractions on the last day will be the focus on a number of collectible cars during the Bonhams Auction. Without a doubt all eyes of the many potential bidders will be fixed upon part of the American motoring icon Carroll Shelby's personal 24-car collection—and all will come under the hammer with no reserve. Which means that all of them will be finding new homes on the day. Aside from the Shelby's treasures, there are other notable classics (over a hundred in total) worth considering at the sale which we have picked and highlighted here. So get ready to bring out your chequebook while you are in Greenwich on Sunday  3rd of June!
All Photos and Video provided by http://www.bonhams.com/auctions/24810/
1959 AC Aceca Coupé
One of only 48 built by AC Cars that year. What made this British sports car a stand-out is that it has an all-alloy bodywork. The 2-litre with 4-speed gearbox coupé has been restored and customised for rallying in mind, with all the trimmings such as side pipes, roll cage and full harness for driver and navigator. (Estimate: US$160,000-200,000)
1964 Aston Martin DB5 Convertible
A Rare left-hand-drive car that was delivered to its first owner, racing driver Michael Goth, in New York. The car has since changed hands only once. The Aston comes with a full service history and had both its Goodwood Green paintwork and Beige hides interior re-done back in the 90's. (Estimate: US$2,00,000-2,500,000)
1954 Cunningham C-3 Coupé
American millionaire and sportsman Briggs Swift Cunningham II always yearned to field U.S.-made sports cars in international racing, taking on the might of the Italians, the British and the Germans who dominated the scene at the time. But since there were not that many of those to choose from in the early Fifties (the Corvette was only introduced in 1953, remember) Cunningham had to resort to "home-made" versions which were mostly based on Cadillacs and running gears of other manufacturers. For homologation purposes to race at Le Mans, he decided to "mass produce" his own road cars , the C-3, with the idea that perhaps their sales would also support his road racing  campaign.
Based on the C-2R racer, this chassis number 5440 is one of only 20 Coupé that were built (along with 5 convertibles). The car has quite a colourful history and went through several ownerships but its elegant Italian Vignale body remains, currently fitted with a Chrysler Hemi V8. This C-3 has been gradually restored here and there over quite some time and needs some further work for the next owner to complete it. (Estimate: US$300,000-400,000)
1986 Ferrari Testarossa "Monospecchio" 
This Testarossa is the early produced car with the correct and popular single wing mirror high on the driver's side. What should be noted is that the Ferrari has been under single ownership since new and was well pampered under his collection, covering just over 2,000 miles during the last fifteen years. The sale includes a complete set of books, tools and the original fitted luggage set. (Estimate: US$110,000-150,000)
2006 Ford GT Heritage Edition
The Gulf-liveried Ford GT was part of the Heritage Edition during the final production year. It has gone through only two ownerships with 10K on the odometer, wearing a set of rare aluminium BBS wheels. (Estimate: US$395,000-420,000)
1969 Ford Mustang Shelby GT500
No Carroll Shelby Private Collection cars can go into this auction without including the GT500. The Maroon with two-tone White and Black interior has the desirable 428 Cobra Jet V8 engine and 4-speed manual gearbox. Shelby bought the car unrestored back in 2010. (Estimate: US$80,000-100,000)
1966 Jaguar E-Type Series 1 4.2 Roadster
A matching numbered Jag which was originally in Cream but currently in Signal Red but with original black interior. It will be for sale with no reserve, comes with a Jaguar Heritage Trust certificate and may require some cosmetic work done for the winning bidder. (Estimate: US$90,000-120,000)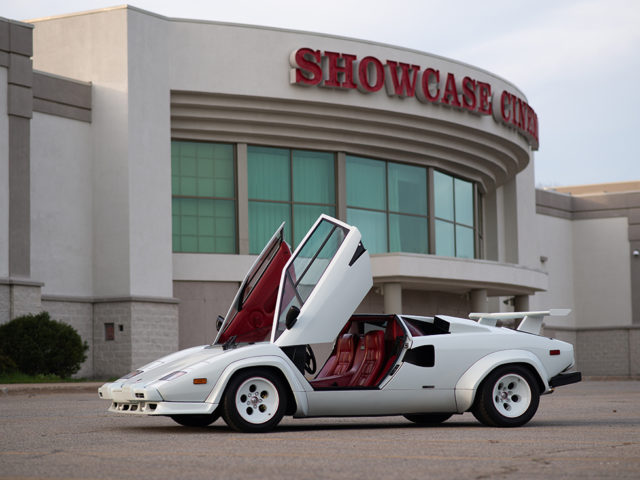 1986 Lamborghini Countach 5000 QV
Another Eighties "Poster Supercar" to be featured by Bonhams and looks to be a very good find. White with Red leather interior, the Countach has only one owner from the beginning and was fully-equipped in-period. Comes with full documentations detailing its entire history and has been driven for only less than 26,000 miles. (Estimate: US$280,000-340,000)
1998 Lamborghini Diablo VT Roadster
Initially a California-registered car, the all-wheel-drive Lambo resides in Florida now. Its many components have been refurbished during its twenty years and should be in tip-top condition for a new owner to enjoy. (Estimate: US$200,000-250,000)
1963 Maserati Sebring 3500GTi Series 1
A quintessential Italian grand tourer. It was originally sold in native Italy before it made its way to the U.S. Prior to this sale, the Series 1 Sebring have gone through a number of restorations, including the re-paint, bright works and rebuilding the engine.  (Estimate: US$225,000-275,000)
1987 Porsche 930 Turbo Coupé
The classic Silver with Linen interior Porsche Turbo was originally ordered with full factory options by the first Californian owner. The car is an absolute original, right down to the period-correct Blaupunkt radio, Fuch wheels, stacks of original stickers, manuals, equipment and tool kit. (Estimate: US$90,000-120,000)