RM Sotheby's Monterey Sale Preview
1953 Ferrari 250 MM Berlinetta by Pinin Farina
While much attention will be on the Ferrari 250 GTO serial number 3413GT to be for sale by RM Sotheby's during Monterey Car Week this August after its official announcement a couple of months ago, there are a selection of other Ferraris with tremendous provenance to consider at the same auction as well. One such candidate would be this 1953 Ferrari 250 MM Berlinetta. Chassis number 0344 MM was at one time a part of the Mas du Clos Collection of Frenchman Pierre Bardinon, who for many years was one of the most astute collectors of historically-significant Ferrari cars in the world.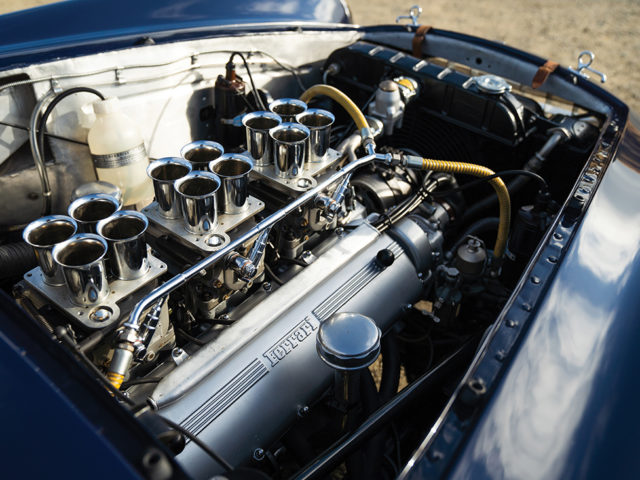 The origin of the 250 MM series can be traced back to the previous year before its introduction. 1952 was the year when Ferrari triumphed at the famous Mille Miglia road race with the 250 Sport, another Berlinetta but clothed by Vignale. To dedicate that victory, Ferrari came out with the 250 MM (for Mille Miglia), the first of which debuted at the Paris Salon the year after. Although the Ferrari works team did race them, the intention leaned toward individual clients to purchase and make the effort to race themselves if they wish. In all only 31 of these 250 MMs were ever produced , eighteen of which had Pinin Farina bodies (all coupés or berlinettas) while the remainder were hand made by Vignale (all open Spiders except one).
Therefore 0344 MM is one of those eighteen and the twenty-sixth made and was first under the custodian of an Italian lady owner (a Mrs. Ferrari!) before travelling to Sweden where it spent much of its early years there as a racing car for several Swedish privateers (including as a show car at the 1954 Swedish International Motor Show).
By the late Fifties the 250 MM found its way over to the United Kingdom where it had its first refurbishments and modifications (including rebuilding the engine and installing new fuel tanks). It was after this that the Berlinetta became a member of Bardinon's extensive Mas du Clos collection from 1975 to 1992. Thereafter it went exhaustively through several ownerships in Germany, Sweden again, France again, then Switzerland and back to Italy once more before residing currently in California since 2011.
Given its formidable rarity and condition after a recent restoration, the privilege for any next owner (aside from the thrill of driving the 250 MM itself and all the documents and images compiled comprehensively by noted Ferrari historian and also one of its previous owners, Marcel Massini) would be the ability to enter the world of leading historical racing or prestigious automobile events in which 0344 MM will be absolutely most welcomed.
(Estimate: US$7,500,000 – $9,000,000)
All Photos Courtesy of RM Sotheby's