RM Sotheby's Monterey Sale Preview
1957 Dual-Ghia Convertible
Hollywood glamour will be a part of RM Sotheby's Monterey auction this month as among the top-of-the-line cars on offer will be this show condition 1957 Dual-Ghia Convertible, resplendent in bronze with contrasting red upholstery.
Based on the series of futuristic Dodge Firearrow concept cars designed by famous Chrysler Design Chief Virgil Exner that were built by Carrozzeria Ghia of Turin, the Dual-Ghia represented the first of the short amalgam of Detroit brawn and Italian chic (the second would be another Hollywood-esque Ghia L6.4  which Dean Martin and Lucille Ball also had one).
Although the model began on the platform of a Dodge Royal with Chrysler's 5.2 Litre Red Ram "Hemi" V8 powerplant and Powerflite two-speed automatic gearbox and also was sold through Dodge dealerships, it was badged as a Dual-Ghia. This was because Eugene Casaroll, owner of Detroit's trucking firm Dual Motors bought the rights to the concept  in order to put it into production under his own brand, hence the name.
But the Dual-Ghia was absolutely far from being a truck to look at or to purchase one by any means. In fact it is so elegant , so voluptuous (and with a sticker price of around $7,600 excluding options, so expensive in its class) that the "Italianate" American convertible's was favoured over its European counterparts in its day  by no less than Frank Sinatra,his fellow Rat Packer, Peter Lawford, Lucille Ball and Debbie Reynolds . Even Former Presidents Richard Nixon and Ronald Reagan each drove one as their car of choice.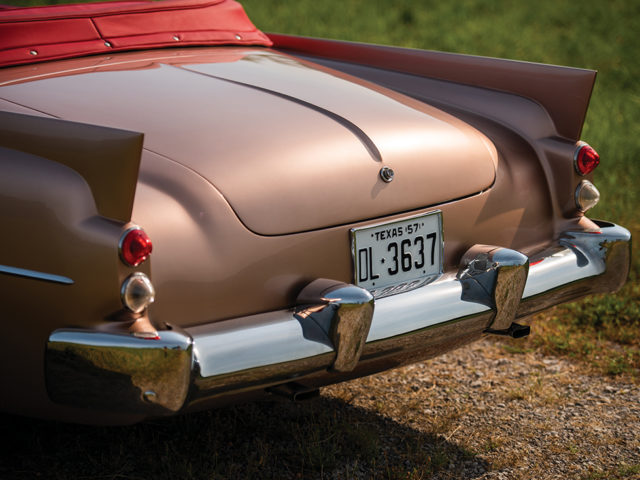 This particular car up for sale is chassis number 145 which began life in Los Angeles, thereby hinting some association with the first owner who may also be in the entertainment business. After having changed hands several times after that the car was restored mechanically with original parts and in period-correct exterior colour as shown.
A mere 117 were recorded as the total production figure during all too brief a span from 1956 to 1958 and there are only just a little over half of those are known to exist today. Hence the exclusivity of owning this rarity undoubtedly will continue.
(Estimate: US$400,000 – $500,000)
All Photos Courtesy of RM Sotheby's