Cavallino Classic 28
The Hangar Group Reception
One of the signature functions that many of the guests in the past Cavallino Classics had been looking forward to for many years had been the Jet Reception. Held underneath the private jet hangar and along the runway of Palm Beach International Airport, the party annually was one of the most anticipated by patrons and many of South Florida's leading socialites. This was simply because of its elegant atmosphere created by having private jets combined nearby with a selection of delectable Ferraris which will be taking part at the Concorso d'Eleganza on the following Saturday. This also included other luxurious toys for grown-ups such as helicopters, speed boats—and even a submarine that we ourselves saw back in 2017! (See: "La Bella Macchina")
However now that the current President Donald Trump is at the helm and who often make frequent trips down to West Palm Beach, the airport is for now considered off-limits for use commercially or socially for safety reasons. To the dismay of the many attendees who traveled far and wide just to be there for  the Cavallino Classic week, an alternate venue was needed and for 2019, this happened to be the unique property of The Hangar.
Located in Haverhill Business Park well within just several miles from Central Palm Beach, The Hangar is more than just a mere storage place but rather a more lifestyle-oriented private spaces to secure not only your car collections but can also accommodate many other valuables.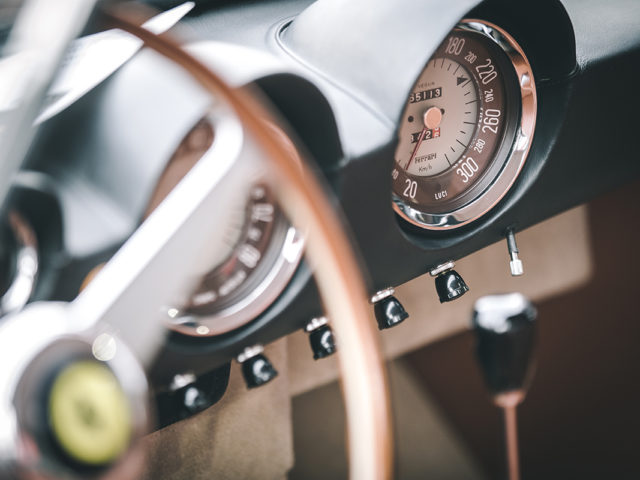 Boasting 41 separate units of varying sizes, each "hangar" is not just some mundane garage for you to hoard leftover boxes of spare parts, de-commissioned appliances and Christmas decorations by any means. It features clear ceiling, the ability to design and personalise your own hangar as you so wish and is both temperature and humidity-controlled. Membership to be one of the tenants included the use of the common areas within the facility, such as the Owners' Lounge and boardroom.
Arriving slightly early for the reception  in one of our good friend Art Taxman's Ferrari 250GTE 2+2 gave us a slight advantage to have a clearer look of The Hangar in its entirety before most of guests arrived on that particular Friday evening. Almost immediately catching our attention were two distinctive McLarens housed in one of the bigger hangars available. One of which was the ex-Emerson Fittipaldi M23 Formula one car. Though as impressive as it was, shadowing behind it however was one of the McLaren Senna hypercars which looked quite incredible in the flesh.
As much as we would like to continue to gaze at both McLarens in awe, over on the other hangar sat a rare Porsche 959 as if it was parked in someone's living room. Rarer still is one of only two Essex Racing 1961 Aston Martin DB4 GT "Lighweight" GT racer. Carrying a period license plate "17 TVX" meant that it was the very car which was driven by Grand Prix great Jim Clark as well as Innes Ireland (and whose autobiography featured this actual Aston on the cover).
The cocktail snacks began to be served and the wines started to flow as more and more guests swarmed The Hangar into the night. With those who came in their Ferraris were allowed into the premise, this added a further delight to the proceedings as rows and rows of them adorned the party right toward the very back.
Despite how much many may have missed the Jet Reception over at the Palm Beach airport, the celebratory mood that we saw convinced us that The Hangar was a worthy location to host the reception in place of it—even if there were no submarines this year!
All Photos by www.sleepy-nokkie.com (unless otherwise stated)
For more information on The Hangar: www.thehangargroup.com