Lost Article :
Ferrari 250 GTO 50th Birthday 2012 – Part 1
Many moons ago when I was the marketing guy and the officially appointed "Brand Ambassador" for the prestigious Moet et Chandon Champagne House, I hatched what I thought was a brilliant plan: Since I love cars almost all my life (particularly Ferraris) and had to come up with an out-of-the-box promotion idea for Moet to impress the management as well, why don't I combined the two by offering Moet et Chandon as the official sponsor for the then newly formed Ferrari Club Thailand? My boss had reservations about that at first but decided to let me go ahead with it anyway (and probably because he couldn't come up with an argument of why we shouldn't).
The association that I managed to forge between these two famous brands proved to be quite fruitful. Moet et Chandon became synonymous with the Ferrari Club and their members for a number of years—and I got the perk of not being confined behind the desk analysing sales charts of alcoholic beverages that often. As a result sales sky-rocketed, everyone at work were happy, I kept my job and got my bonuses annually—which I blew them all on worsted wool suits, vintage cars and a brief series of really bad dates…
Together, Moet and Ferrari Club Thailand went and did some very memorable events not only locally but also in Epernay. This was when Moet et Chandon graciously invited those members from Thailand who kept their Ferraris abroad to be their special guests one summer at the exquisite Champagne region. Over time, my own role got blurred when I was appointed also as the Club's Secretary (perhaps because they could not figure out if I was more knowledgeable about cars or champagne—or maybe they needed somebody to get the booze for each party).
It so happens that in fact the relationship between Moet and Ferrari has been deeply rooted well before I thought I was the clever one who first came up with it. Jess Pourret, a noted Ferrari historian and one of the founding members of Ferrari Club Thailand, gave me as a gift a book that he himself wrote and published that commemorated the 25th Anniversary of the fabled Ferrari 250 GTO right at the Moet et Chandon Champagne House in 1987. The publication was majestic, with amazing words and photographs chronicling the gathering of eighteen of only thirty-six 250 GTOs (and three of its 330 GTO cousins) that exist in the world. Reading Jess' book countless times, I often dreamt again and again over the years if I myself would ever be fortunate enough to see them in one place with my own eyes like he did.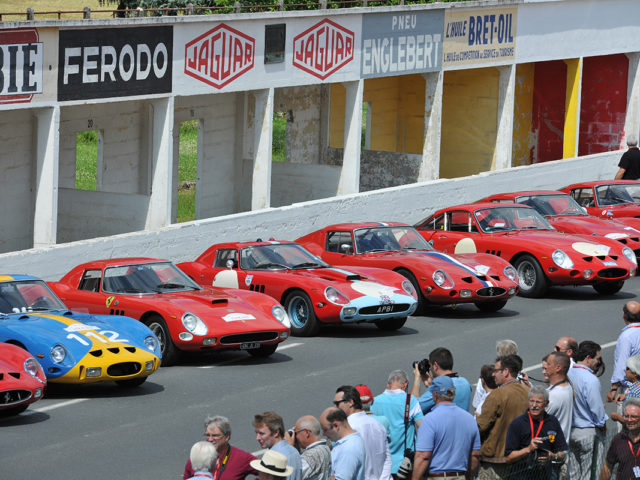 It is now 2012 and my days of working for Moet in tandem with Ferrari have long gone (how much consumption and food pairing of Dom Perignon vintages and 3-Star Michelin dinners can one endured over time anyway?). But my mental image of seeing myself amongst the 250 GTOs in one place remained. Drawing from my ability obtained from "A" Level Maths, I calculated that this year was the 50th Anniversary since the GTO was born and wondered if Moet would be putting on something similar that they did 25 years ago. I contacted Jean Berchon, the gentleman who hosted the event for the Ferrari Club Thailand members during my time. A direct descendant of the Moet family and a Ferrari enthusiast himself no less, Jean was also instrumental in organising that first GTO gathering back in '87 and I was pretty confident that something similar would again take place. Sure enough, Jean replied that there was going to be another celebration—only this time instead of eighteen there will be twenty-three 250 GTOs invited from around the world—and wanted to know if I would like to come as one of the guests. I hesitated for a moment to give him my answer (no I didn't hesitated—ed.) and immediately booked my ticket to Europe. I was determined not to miss the occasion no matter what (besides I might not be available if they invited me again for the next 50th Anniversary).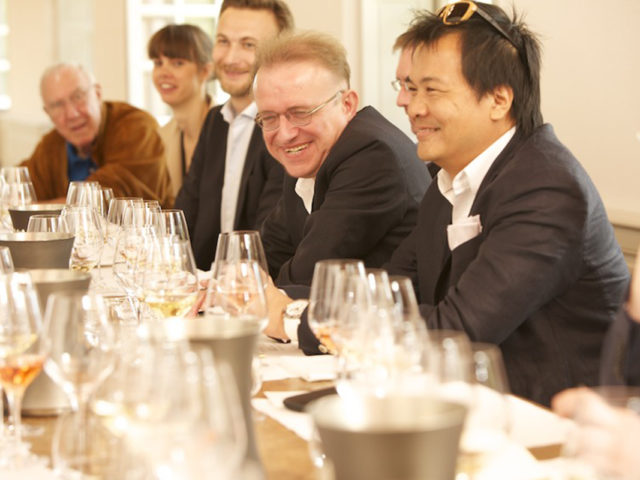 After my trip to the Goodwood Festival of Speed, I set off for Paris by train for another connection direct to Epernay. All the memories flooded back among the rolling hills of the miles and miles of the vineyards as I head toward the Hotel Royal Champagne. Soon after I checked-in at this wonderful hotel (and probably the best there is in Champagne), I went straight to the first order of business: tasting various vintages of Dom Perignon with the winemaker and good friend Richard Geoffroy at L'Abbaye d'Hautvillers. It was extremely refreshing to meet up with Richard once again, trading quips and inside jokes during our time when we worked together as he went through all the wines with myself, other guests and media. As much as enjoyable as the tasting was, I knew that in the back of the mind that the GTOs were about to congregate at the historic Circuit de Gueux in Reims nearby to officially mark the beginning of the event. Eventually all of us invitees were quickly transported to Reims to be among the firsts to get to see what we all came here for.
Once we arrived at Gueux, guess which one of us got off the bus first? For a tifosi like me, the atmosphere was electric and I was not prepared to be last to embrace it. One by one, each GTO made its presence felt from its distinctive racing colour, many still with original racing stripes and numbers. The growl as each one made on its kick down as it lined up in traditional Le Mans-style start right in front of the now-abandoned pit area, was still as deafening as most modern racing cars of today. I finally met up with Jean Berchon, but we shook hands only briefly as we both probably felt the same rise of adrenaline when more and more cars and their respective owners arrived while size of the on-lookers who joined had started to swell.
Among the lasts to turn up was the 3505 GT in the unique light minty green racing colour of the British UDT-Laystall team and sporting number 15. What gave this particular right-hand-drive 250 GTO its notoriety is that it was firstly co-purchased by the team and Sir Stirling Moss during his prime. The intention was for this legendary British driver to campaign the car during the 1962 racing season. But due to his near-fatal accident at Goodwood, Moss had to abruptly retire and never drove it in period (with the likes of Innes Ireland, Masten Gregory and Willy Mairesse taking up the driving duties instead). Such provenance was one of the reasons why prior to this 50th Anniversary, the car changed hands at a reported sum of $35 million and making it the most expensive car in the world. Hence, there was the obvious clamouring of journalists and enthusiasts surrounding the car and its latest owner, Craig McCaw. In order to seek a better vantage point of all the GTOs, I did a a death-defying stunt of climbing all the way to the top of the disused pit to take photos of all the cars from above. I came down just in time to be on the side of the track as all the GTOs were to take their position into a grid formation and accelerated away together. The spectacle was absolutely incredible and it signaled the beginning of the anniversary—and I cannot wait for more of what was to come.