Lost Article :
Ferrari 250 GTO 50th Birthday 2012 – Part 2
It was one breathtaking sight to witness that nearly two-thirds of the entire Ferrari 250 GTOs ever built were driven from Reims in unison. They went straight to l'Abbaye d'Hautvillers where I was earlier, making this ancient Benedictine church its "base camp" of sort. Now that the excitement had subsided (but only just a touch), I went around to take in all the little details of all the cars, both the Series I cars and the several notch-back Series II GTOs that were made in the model's final year of 1964. These may be the most valuable cars in the world, but it was interesting to note that they are devoid of any insulation, carpeting and most were fitted with make-shift tubes to ease ventilation for the driver and the passenger. But those may be the very reasons why you buy them for!
As much as I wanted to scrutinise them all while they are at rest, I had to retreat back to Royal Champagne to change and get ready for the cocktail reception later that evening.  The mid-summer daylight time in France was long enough for myself and my fellow invited guests to still get a greater sense of the occasion as the 250 GTOs were now parked encircling us lucky attendees. It was nice to see that among the crowd was former Team Principal for Scuderia Ferrari, Jean Todt, together with his wife, Michelle Yeoh. Now the President of FIA, Jean is a familiar face as he is very close to us Ferrari Club Thailand members and I had been fortunate enough to have met him several times whenever he visited our country.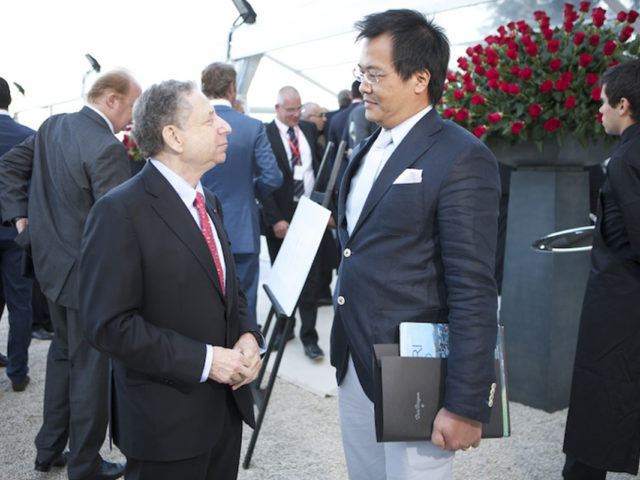 In the middle of this 250 GTO "circle" stood the latest Ferrari F12 Berlinetta that has recently been launched. Somehow I had a feeling that the members of the Ferrari management would be part of this event—and I was right. As I was still exchanging pleasantries with Jean, a Ferrari FF rolled up and out came no less than the Company's President and Chairman himself, Luca di Montezemolo. There was no doubt that he was not going to miss this party. After all, several years ago when he once was asked about what he thought of the Ferrari 250 GTO, di Montezemolo simply responded, "the greatest".
After the cocktail came the dinner which took place in an elegant tented area right in front of all the cars as all the guests has a direct view of while they dined. During my time working with them, Moet et Chandon has never failed to give every event that special Moet "touch", but this time Jean Berchon and his managers have truly outdid themselves. The dishes prepared included lobster and cauliflower gelée topped with St. James caviar, citrus-scented sea bass and veal with cream sauce and wild chanterelle mushrooms. All were accompanied with the 1988 vintage of Dom Perignon in Magnum bottles along with a few remaining precious stocks of the 1962 and 1964 vintages of Dom Perignons (denoting the manufacturing years of the Series I and II GTOs, respectively) that were reserved just for this celebration. Since this evening was far too important for me to return back to my hotel so soon, I stayed around for as long as I could (the courtesy car provided for the guests could have left me there as I was earnestly prepared to walk back to Royal Champagne alone). After the dinner I did more gazing at all the cars, introducing myself to some of the owners including Brandon Wang, owner of the dark blue 4219 GT (and a personal favourite) who was taken by surprised of me coming so far away just to make the effort to be here. But alas it was getting quite late into the night until I realised that this was just the first day. The 50th Anniversary is in fact a tour as we need to get up early and follow the GTOs once more, as they will be heading to another special location the next morning.
Vaux-le-Vicomte is a majestic château built in the 17th Century about fifty kilometers on the southeastern outskirts of Paris (or over a hundred kilometers away from where we started in Epernay) and the second stop for the owners and their Ferraris. I could barely keep up with them, despite being driven in the latest BMW 5-Series by Brecht, one of the guests from Belgium who is also following the tour. By the time we got there the 250 GTO contingent was already assembled right in front of the château and somehow the view seemed just perfect. Unlike the abbey, Château de Vaux-le-Vicomte has its own set of historical charms which blended nicely as we retreated for an informal lunch inside. What was also a delight was that I met up with Keith Bluemel, another much-respected Ferrari historian who I first met during my trip with the Ferrari Club Thailand members to Epernay. It made a lot of sense to see Keith here, since it was he who wrote (with Jess Pourret) "Ferrari 250 GTO", a book which I think is probably the most definitive on the subject.
As much as I wanted to tell you that I stayed on with the entire tour of the Ferrari 250 GTO 50th Anniversary (where the destination leads to Le Mans before finally ending in the middle of Paris for the remaining few), I unfortunately had to make my way back for another appointment in Mulhouse (where I tediously had to go look at the Schlumpf Collection of Bugattis…). I said goodbye to Jean Berchon and Keith and left at around the same moment as the GTOs were about to disassemble and continue their journey onward. As sad as it may sound for me, it was somewhat bitter-sweet: I got introduced to the Ferrari 250 GTO first-hand as they came roaring in at Reims—and we parted ways as they roared out from Château de Vaux-le-Vicomte.
A lot of Grand Touring followers and close friends often approached me to ask why I make such a big deal about the Ferrari 250 GTO. Why would anyone now pay the King's Ransom for one? After my experience from this epic trip I can surmise my reply simply by saying that it is the quintessential Ferrari when you close your eyes and think about one. None of the 39 GTOs are the same because it was sculpted and built captivatingly by the hands of Sergio Scaglietti. It had the near-mythical Ferrari V12 engine that makes the most perfect man-made sound in the world. And it was one the very last Ferrari GTs that was competitive and successful when driven on the track and as brilliant for driving on the road (the 4293 GT chassis car that finished second overall and first in its GT Class at the 1963 Le Mans in particular was driven after the race by co-drivers Jean Blaton and Gérard Langlos van Ophem so that they can celebrate in Paris instead…). So with all due respect to every Ferrari owners of other models out there, the 250 GTO will always remain the very best of what I would call as the last of the "proper" Ferraris.
In retrospect, getting Moet et Chandon and Ferrari together might be the most clever idea I ever came up with after all…
Special Thanks to Jean Berchon and Moet et Chandon for selected photos and video