Race Retro
International Historic Motorsport Show
The 16th edition of the Race Retro show was held at its regular venue at Stoneleigh Park, a 1000 acre estate only a short distance south of Coventry, over the weekend of 23–25 February. The new organisation, which took over the running of the show in 2017, and as the (free) programme said "powered by Motor Sport" (magazine), once again provided a broad ranging array of offerings for the visitors, both static in the display halls and action on the rally stage. The popularity of the event continues to grow, with over 23,000 visitors braving decidedly chilly weather to attend the show, which was a 10% increase on the previous year's figure.
The Motor Sport Hall of Fame display areas, introduced last year around the Live Stage in Hall 3, once again provided a wide variety of interesting offerings. One of these celebrated 40 years of Ground Effects included single seaters like the Lotus 79 F1, s/n 79/5, in British Racing Green with Martini livery raced by Mario Andretti during the 1979 season, a lurid orange and white Arrows A4 F1, a Williams FW07, the model which gave the team their first F1 win, a Ralt RT3 F3 car raced in period by Martin Brundle, and Porsche's first true ground effects sports racing car, the ultra successful 956 model.
A real surprise was to see the long forgotten Connew F1 car from 1972, recently restored by the original designer/builder Peter Connew and his cousin Barry Boor, who built the original bodywork. Adjacent to this was a 1970 McLaren M14A F1 car, displayed as a tribute to the late Dan Gurney, as he stepped in as a driver, rallying the team together after Bruce McLaren's tragic fatal testing accident, and this model was the last F1 car that he drove in his career.
Other display features at the show included a tribute to Dave Richards & Prodrive, with a quartet of Prodrive managed or built cars including the BAR 006 F1, the Aston Martin Vantage GTE and the legendary blue and yellow 777 cigarette company liveried Subaru Impreza. There was a celebration of the 30th anniversary of rally driver Miki Biasion's first WRC win with a quartet of rally cars used during his career, comprising of an Olio Fiat liveried Lancia 037, a legendary Martini liveried Delta HF Integrale, plus a Ford Sapphire Cosworth and Focus WRC. There was also a celebration of the 50th anniversary on the now legendary London – Sydney Marathon, which included the event winning Hillman Hunter within the display. Another prominent display was that of the Rallying with Group B organisation, who also organised the live rally stage, ranging from a sixties Mini Cooper S, through Opel Manta 400, Ford RS200 and MG Metro 6R4 to the current Proton Iriz R5.
There were also motor sport personalities on the Motor Sport Live Stage throughout the weekend, telling stories and answering questions, including the always entertaining Brian Redman, two times World Rally Chapion Miki Biasion, who also drove on the special stage, two times British Rally Champion Russell Brookes, renowned Jaguar test driver Norman Dewis OBE, designer John Barnard, and British Motor Cycle Champion Steve Parrish to name but a few. Another feature involving attendees was the "Pride of the Paddock" finalists display adjacent to the autojumble area, where visitors could vote for their favourite car in the line-up, which ranged from a sixties Ford Anglia 105E racing saloon to a Ferrari 348 Challenge car, the former actually getting the people's choice award.
Despite temperatures bordering on freezing with the wind chill factor, the live rally stage action on a sinuous one mile course proved extremely popular, with large crowds braving the elements and lining the barriers all the time the track was in action. It was well worth it as there was a wide variety of machinery, both classic and modern participating, putting on great displays of tail out tyre smoking entertainment. In all there were some 100 cars taking part, with no less than 22 Group B examples, including an Audi Quattro Sport in the famous yellow and white HB cigarettes livery. Possibly the most unlikely candidate for a rally car was the Lotus Esprit, which was more rallycross then rally, maybe a slight blurring of the lines, but it sounded great, there were a couple of other entertaining off road vehicles, notably the Range Rover Evoque LRM1!
If visitors wanted to have some action themselves then they could buy passenger rides in one of the rally cars on the circuit, or for the faint hearted a ride or drive in a variety of classic rally cars around the grounds of Stoneleigh Park. There was further track action in the form of classic karts, whilst for those wanting something more serene there was the Retro Classic Tour, which left on a circa 150 mile scenic route on the Saturday morning, returning in the afternoon. Although the show had a strong rally vein, there was plenty of variety of other genres of classic motor sport around the four exhibition halls, together with an art and memorabilia gallery, numerous trade stands, book and model vendors, and a covered autojumble area.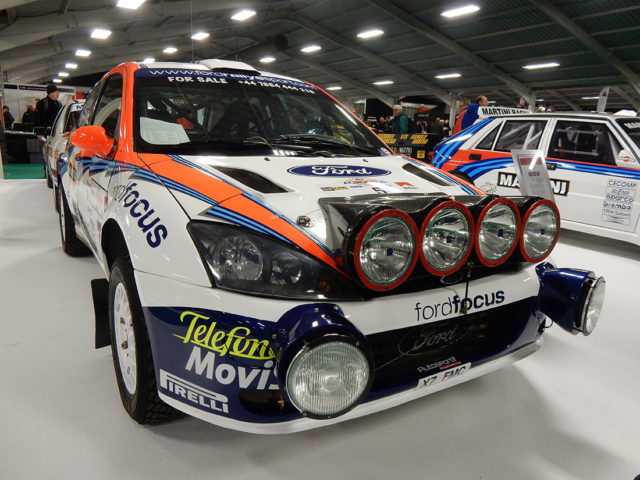 In a separate hall in the park, Silverstone Auctions ran two auctions over the weekend, one for competition cars, which saw the 1990 BTCC winning Ford Sierra Cosworth RS500 'Group A' hammered at a £182,250 selling price, and an ex-Colin McRae 1999 Ford Focus WRC Rally Car sold for £126,500. Overall this sale had a 62% sell-through rate, with total sales of £891,945 including buyer's premium. The second sale was for classic cars and automobilia, which achieved a 70% sell-through figure with total sales of £2,690,029 including buyer's premium. Highlights included a "Bullitt" film specification 1969 Dodge Charger, previously owned by Bruce Willis and Jay Kay of Jamiroquai, which sold for £94,500, while a rare manual 1997 Aston Martin V8 Vantage formerly owned by Sir Elton John achieved a very respectable £219,375. There were also a pair of Rowan Atkinson owned cars in the sale, a 1994 Mercedes-Benz 500E which sold for £71,300, and a 1989 Lancia Thema 8.32 which sold for £29,813. Fast Fords seem to be popular, with a 1974 Escort Mexico Mk I making £24,525, a RS2000 example from the same year achieved £37,125, and a 1996 Escort RS Cosworth sold for £58,500. A 1981 Ferrari 512 BB, chassis # 36869, in bright yellow with period Koenig modifications, made strong money for a left hand drive non standard car, selling at £213,750.
All Photos by Keith Bluemel