Rétromobile 2018
The 43rd running of the Rétromobile show, at the Porte de Versailles exhibition complex in Paris during the 6th to 11th February, once again produced a marvellous cocktail of automobiles to delight enthusiasts of all genres of classic motoring. This year there was one unforeseen ingredient in the cocktail – snow! Heavy snowfall during the Tuesday of the opening evening of the show, caused traffic chaos, with reports of 700kms of traffic jams in the Paris region! It also caused delays to trains and flights, resulting in a calmer than normal day, in terms of numbers of attendees, on the Wednesday, the first full day of opening.
Over the years the show has expanded considerably due to its popularity with visitors, vendors of cars and all the associated ephemera, car clubs and classic car organisations promoting their events. It was further expanded this year to occupy Halls 1, 2.2, 2.3 and 3, together with the link bridge between Hall 1 and the other halls, providing a total of around 69000 square metres of exhibition space. This allowed the provision of a sales area for cars more affordable to the average enthusiast in Hall 3, which had a ceiling of €25000, and this hall also housed the "Village Club" for one make or model car clubs.
Every year the show is a gathering point for classic car enthusiasts and major collectors, not only from Europe but also notably from the USA, and although some experienced delays due to the snow, they still eventually made it. The show also attracts many of the major purveyors of classic cars, providing an eclectic array of offerings with expansive displays, some of which are themed to particular models more as a showcase than a sales point. Notable amongst these was Lukas Huni's stand, which had an expansive display of no less than ten Ferrari 250 GT SWB Berlinettas, including the unique Bertone bodied "shark nose" example, chassis # 3269 GT, along with many other fine and rare cars.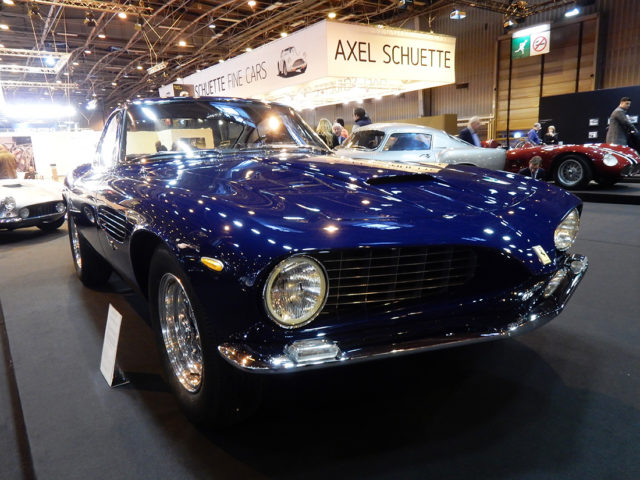 Other regular prominent displays were those of Fiskens and JD Classics from the UK, both featuring an eclectic array of diverse vehicles amongst their offerings. Another regular exhibitor is Tradex srl, who stunned everybody in 2017 with their display of Ferrari F1 cars, and this year delighted again with another fine display. This included examples of Alfa Romeo, Maserati, OSCA, Stanguellini, F1 Ferraris, a beautiful pair of Ferrari 250 GT models, a S1 PF Cabriolet and a LWB California Spider, together with a Ferrari Servizio Corse Peugeot 404 Estate Car with a F1 body panel on its roof rack.
There were celebrations of the 120th anniversary of Renault, the 70th anniversary of Honda, Porsche, the Citroen 2CV and the Peugeot 203, together with the 50th anniversary of the Citroen Mehari and Peugeot 504. There were also special display features, including record cars gracing the link bridge avenue, a tribute to Jean-Pierre Wimille, featuring both cars that he raced and ones that he built, and a marvellous display of Abarth models from the renowned collection of Englebert Moll in Switzerland. Another feature display was courtesy of Richard Mille, the luxury watch manufacturer, with a gleaming display of McLarens ranging from a M2B F1 car to the P1 hypercar, and including the 1995 F1 GTR Le Mans winner.
The show is also well supported by major manufacturers and/or their heritage divisions, including Fiat Chrysler Automobiles, Jaguar Land Rover, Lamborghini, Maserati, Mercedes-Benz and Porsche. Amongst them the Citroen/DS Peugeot group had a prominent display in the centre of Hall 1, and included in the cars on display were a Citroen DS21 Presidential car used by Général de Gaulle plus an SM that was used by Georges Pompidou.
Across the aisle were Renault and Alpine, with a stunning display of two A442s, an A443 and the 1978 Le Mans winning A442B model. Another feature of the show is the Artcurial auction, which had a wide variety of offerings, ranging from barn find bicycles and cars to some spectacular classic offerings, even though their promoted star lot, the 1964 Le Mans winning Ferrari 275 P, chassis # 0816, was withdrawn just before the show. As adjuncts to the show both Bonhams and RM Sotheby's held their regular auctions at other locations in Paris.
Once again a wonderfully diverse show, which had all its usual ingredients that make it the spectacular "must visit" classic show to kick start the season.
All Photos by Keith Bluemel