Grand Touring Man
at
Nikki Beach Koh Samui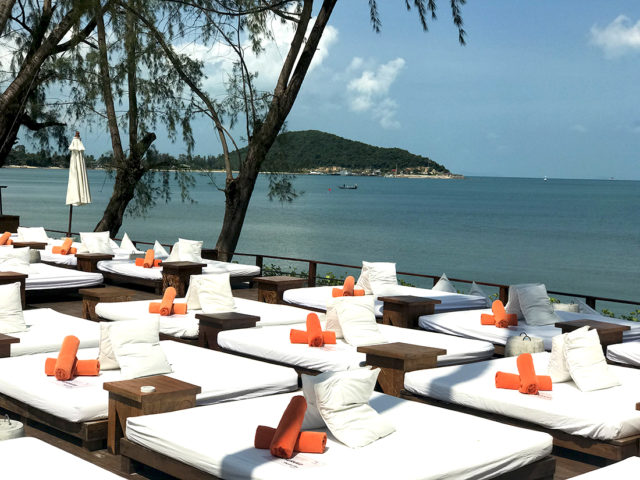 "Ok let's talk a little truth and honesty. Let's talk a little Operation 'Koh Samui'—Jack."—Meet The Parents
At first this whole idea of tripping down to Koh Samui by plane was, for me, not as appealing as driving down. Yes I know, it is only a fifty-minute flight from Bangkok to an airport where you land alongside your luggage and the Bangkok food stuffs delivered to the hotels and restaurants used for making your lunch that day. The last time I was here, I drove down to Surat Thani, the last point of the mainland, before taking the ferry with the car. But then again I was coming to Nikki Beach this time and not to some local joint back then which in all honesty I was not that impressed with—alongside a navigator who is now not that impressed with me anymore…
For many who are aware of Koh Samui (which is NOT a code name of some secret covert operation that Ben Stiller had assumed), this tiny boutique of an island down in the southern part of Thailand means more than just a short plane ride for us locals. To them, it is often regarded to be in their list of "Trip of a Lifetime" destinations, right up there with the likes of The Maldives, Saint Barth, Saint Martin and Bora Bora. With that often being the case, it is therefore paramount to choose the right place to stay on the island to make sure that such an experience would be as memorable as one could have wished for. Nikki Beach Resort & Spa is more than worthy to be one of those few places.
Officially opened in 2009 on the west side of the island (about half-an-hour or forty minutes away from the airport—depending on whether you drove a bland In-Line 4 or a more punchy V-8 on the island's undulating and often scenic roads to get there), the resort may not be a locally-owned establishment as one would have envisaged for such an exotic locale deemed as far and away from any civilisation. But that's not the point. Because for some time now what Koh Samui really needed was a world-class resort like Nikki Beach to be there.
A brainchild of Jack Penrod, a very successful American entrepreneur, Nikki Beach became who they are today just toward the end of the twentieth century that began with their flagship property on Miami Beach. Back then the Nikki Beach Hotels & Resorts brand was one of a handful of the disruptive forces that had emerged during that period in the hospitality industry, along with such groups as The Mondrian, W Hotels and Six Senses that wanted to provide  alternative accommodation and service philosophies for the Gen X's and Y's travelers. Drab '70s interiors filled with palm trees, pineapple and coconut motifs and props had to make way for modern, more avant-garde and eclectic-looking hotels, some of which are presented as architectural marvels —and residing at more far away locations than the ubiquitous vacationing spots.
Nikki Beach's identity took their inspiration from the classic French Riviera-esque beach clubs which would connote some sense of elegance and luxury when one needed to get away from the normal routine. But it is not the great looks of their resorts that made Nikki Beach a standout, it is also their partying attitude—and even more partying—that set them apart right from the inception. Themed parties, fashion shows and concerts by the pool were their thing that reflected their "A Celebration of Life" mantra. Their events and care-free attitude eventually  evolved as part of the vibrant social landscape of Miami. The beach club played its part of transforming the city as the place to be, which before was often the blunt of senior citizens humour. By the end of the Nineties and the start of the Millennium, Miami was Versace, Will Smith, Porsche 965 Carrera 3.6 "Bad Boys" and Naomi Campbell's All-White Party. With all due respect to Don Johnson's wardrobe, "Miami Vice" and white Ferrari Testarossa, Nikki Beach Miami wasn't just another place to stay and order a Club Sandwich by the pool. It was a cultural phenomenon that would be there to stay—and for the benefit of the new generations who could afford to.
Soon after, Nikki Beach spread quickly and became a global premium name associated with glamour and glitz. With their famous slogan, "A Celebration of Life", Nikki Beach was named as a tribute after Penrod's daughter who passed away tragically much too early as a teenager. The brand sets about in ensuring that the guests have the kind of life to celebrate about whenever they are there, with currently twelve beach clubs worldwide including Koh Samui. A-list celebrities from Jay-Z, Ryan Gosling, Eva Longoria, Michelle Rodriguez to Justin Timberlake have been seen and spotted at their many locations such as Saint Tropez, Marbella, Dubai and Monte Carlo.
Nikki Beach on Koh Samui is another one of their resorts which has the same vibes and flavours and yet somehow maintained the local personality of Thailand that you had hoped for. The entire piece of the property is relatively compact, with 48 units of Villas, Suites and Ocean View Penthouse all together. Despite the size and the fact that there is a permanent DJ booth at the Beach Club & Restaurant (which normally spells trouble for some who has a stronger preference for the peace and quiet), the entire ground offers the contrast of providing a pool party atmosphere on every Thursdays as well as a weekly Sunday brunch that combined great food and music together with the tranquility and privacy associated with a premier resort. This is because the individual Garden Villas and the Suites (with two floors and are separated on each side by the longest, proper swimming pool on the island)  are segregated on the opposite side of the other and away from the beach club, that even the most prolific speakers would not disturb you.
There are only two Beachfront Villas here but those are all they need to have when it comes to exclusivity. It has its own private pool, a separate living quarter from the two luxurious bedrooms overlooking the Lipa Noi Beach. Next to that, there is an entrance where you can disembark from a private yacht without the paparazzi knowing into the compound. You can actually feel the luxury and the service that came with it while you are staying here. The funny thing was, although I realised that I was still within Thailand, I somehow felt that I was at somewhere that was much further away from home.
In that sense Nikki Beach Resort down in Koh Samui did offered me a moment to celebrate life. Maybe I should come here again next time when I celebrate a new navigator…
All Photos by Janek Niedzwiecki (Unless otherwise stated)
Special thanks: www.nikkibeach.com and http://hotelintel.co/