Grand Touring Involves…
Absolutely British
"Grand Touring Involves…" is the title of a brand-new series of themed events that we at Grand Touring have created at the behest of the many car owners and collectors who have been following us with dedication since our humble beginning.
Upon the many requests, we therefore devised a gathering in which our followers could meet with fellow like-minded enthusiasts who share a common passion at perhaps a suitable location in which they would find reasons to drive to and showcase their fine collection of automobiles.
In a generous partnership with Sunplay Bangsaray, the award-winning private estate community, who just recently been named at the 2018 Thailand Property Awards as one of the best in Villa and Condominium Development on Thailand's Eastern Seaboard,  our first event kicked off on Sunday 26th of August right in the heart of our hometown of Bangkok at the new and stylish Spirit Jim Thompson. This latest restaurant captures the essence of traditional Thai elegance that you would come to expect from Jim Thompson while infusing the sophistication of modern fine dining—thus making it the perfect venue for the level of guests who we had invited.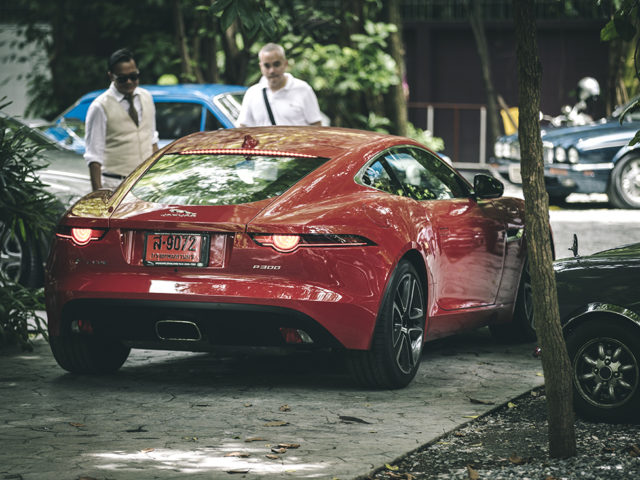 With the theme of "Grand Touring Involves…Absolutely British", the invitation was extended to anyone who were free to join for our private lunch—as long as they would come in British-made cars as the proof of invite!
As expected, we were served on the day (well before the event had even started!) with a healthy dose of fine classic and contemporary examples of Jaguars, Daimlers, Minis, Lotuses, MGs,  Bentley—including a Land Rover fresh from restoration and an Aston Martin who arrived when everybody was about to leave!
Among the firsts who had turned up was Sombud Sirichatchai and his Bentley Continental GT, followed closely by Chairat Sangtong's magnificent 1973 Jaguar E-Type Series III V-12 Roadster. It seems that they formed a catalyst of what was to follow quickly afterward, with smatterings of classic Minis, a black MGB Roadster that has been with only one family for decades, a very rare Lotus Europa of Aniwach Cheepsatayakorn, Witawat Jayapani's Ford Escort Cosworth RS2000 beauty and an MGA produced in 1959 that had been recreated as a vintage Le Mans racer. Completed with single driver side only windshield, bullet wing mirrors and racing style headrest and driven in full helmet gear by the owner and his son, its presence provided plenty of flavours to the afternoon.
Of course, no "Absolutely British…"-style event can be one without droves of Jaguars and Daimlers from the Jaguar Daimler Club of Thailand attending. Led by the Club's President Manus Satitsamitpong, there was a healthy assortment of XJ and XK variants from different eras. Also in attendance was the sublime 1956 Jaguar XK140 Fixed-Head Coupe as well as the latest F-Type P300 recently introduced into the country, thus rounding off the entire group of cars from Whitley from over six decades very nicely.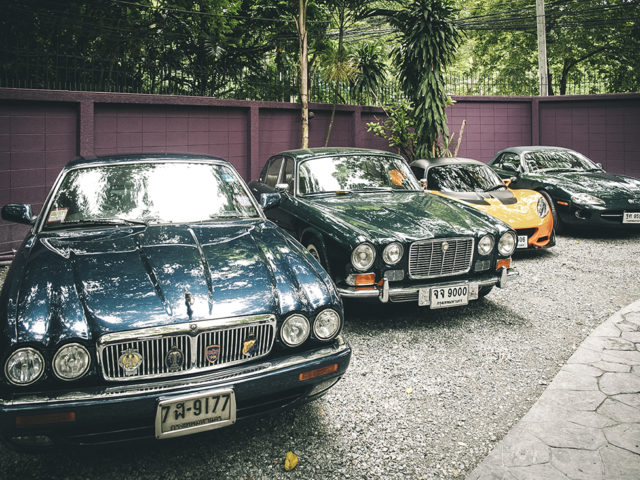 In all, a total of 26 cars and sixty attendees made it to our first little private luncheon. Quite a remarkable feat considering that we were only expecting half of that! Nevertheless, the team at Spirit Jim Thompson was gracious enough to accommodate everyone, serving their signature dishes such as the Stew of Slow Braised Crispy Pork Belly and Stir Fried King Prawns and Pineapple.
Given the over capacity crowd, the camaraderie and the enthusiasm that were generated at our first "Grand Touring Involves…" get-together, it made a lot easier for us now to keep the series going. Any Grand Tourers out there will be more than welcomed to get involved the next time around—as long as you bring out the great cars that you have in your collection when we asked you to!
For more information on Sunplay Bangsaray: www.sunplay.asia 
All Photos By www.sleepy-nokkie.com (unless otherwise stated)