Grand Touring Involves…
Visiting The New Sunplay Club Bangsaray
Sunplay Bangsaray, the award-winning private residential community, set amidst Thailand's burgeoning Eastern Seaboard was again the destination for another Grand Touring adventure.
This premium estate, voted as the best Villa and Condominium Development in the region by Thailand Property Awards last year, has just completed its very own exclusive Sunplay Club at the end of August and ready to be introduced officially. It so happened that the timing coincided perfectly with the nearby Bangsaen Grand Prix that was held during the weekend of 31st August to 1st September, in which there were quite a number of rare and very stylish cars from the 60's, 70's and the 80's (not to mention their equally stylish owners and families who were attired accordingly in-period) taking part in the Classic Revival parade during the event. Thus through the gracious invitation from the grand tourer-friendly Sunplay management, a selected number of vintage car owners were given the privilege of being the first group of outside guests to visit their brand-new Clubhouse, with Grand Touring fortunate enough also to come along for the ride.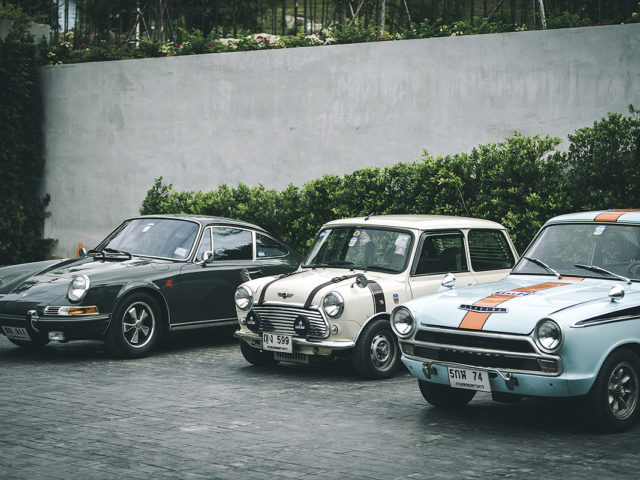 Aside from the beauty of this secluded 170-plus rai property, there is also the charm of the scenic back roads that lead to it, which were ideal for cars such as a group of MGAs and MGB roadsters, a Lotus Europa and an Excel, a trio of Porsches and many others as we took off in the late Sunday morning from the Renaissance Pattaya Resort & Spa in Sattahip, en route to Sunplay.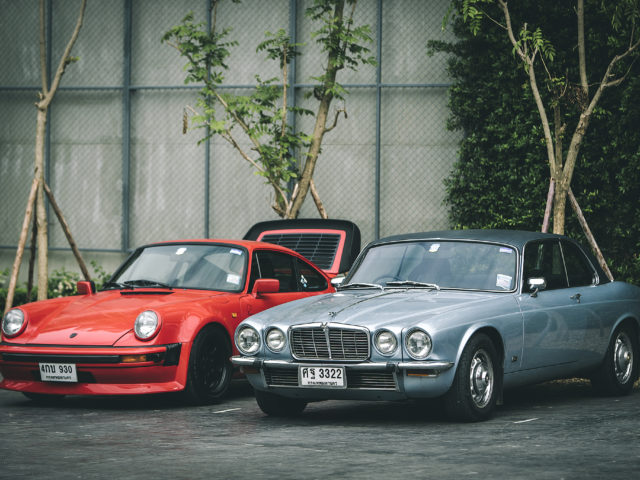 Upon arrival, the invited guests were amazed by the club's elegant architecture as well as being greeted by Sunplay Marketing and Sales team—who were all dressed appropriately in vintage style for the occasion. As they adjourned  inside, all the guests were treated to a sumptuous lunch that Sunplay has generously prepared and they marvelled at the décor along with the view of the new poolside area.
Since this was the first that these owners had visited Bangsaray for quite some time, many used the opportunity to have a look at Sunplay's completed residential development as well as taking their cars and to sample the scenery within the compound for themselves for the rest of the afternoon.
All in all, there were nothing but praises from these classic car owners for being the first to grace this new private club and for the hospitality that Sunplay Bangsaray had shown after each had made their way back home.
For more information on Sunplay Bangsaray:
Special Thanks
4 Speed Classic
All Photos (Unless Otherwise Stated)  By www.sleepy-nokkie.com