Grand Touring Involves…
BMW Scenic Drive
The last Sunday of February on the 24th continued to be another great "Grand Touring Involves…" day. This is because we were privileged to have no less than the BMW Leasing (Thailand) Company Limited and their specially invited clients to be our guests this time.
Titled "BMW Scenic Drive", it was quite heartening that someone like the BMW Group and a number of BMW owners in Thailand accepted our invitation and comprehended the idea that there is more to life than just being satisfied with the ownership of fine cars such as a BMW. That there is the other spectrum and that is the enjoyment of driving over distances or "grand touring" and understanding what your car is capable of—while appreciating the scenery along the way. After all, "Sheer Driving Pleasure" happened to be one of the slogans of BMW.
The event began in the not-so-early hours at The Sukhothai, one of Bangkok's perpetually stylish hotels and appropriately the ideal starting point for a memorable trip on this particularly Sunday. And by the time all the guests had arrived, BMW made it that extra special by arranging a fine selection of cars suitable for the journey.
Each guest who had turned up was about to be treated with an opportunity to drive one of several BMWs that had been prepared during the entire trip. These included the top-of-the range i8 Hybrid sports car, the 7-Series, the M-Series, as well as a selection of the X-Series. To ensure that the day went without a hitch, a contingent of qualified instructors assembled by BMW was on-hand ready to assist all attendees that their grand touring experience is done in unison and in a safe yet enjoyable manner. As everyone were briefed and prepared to each of his or her designated BMW, the destination has been pinpointed on the screen dash display of each car to the resort town of Bangsaray and specifically to Sunplay Bangsaray. This luxurious private residential property will once again be the host who will be welcoming this BMW convoy with a sumptuous lunch at their private villa that awaited them.
But prior to that there is to be some serious grand touring "involved", with the i8 leading the group toward Bangkok's motorway before arriving half-way at a rest stop, allowing each participant to swap cars and get acclimatised with the nuances of other BMW models rather than just the one they initially had been assigned to. This was done one more time after we had left the motorway. From this moment on as we got closer to Sunplay, the entire BMW convoy headed toward the picturesque back roads with a series of twists and turns which made arriving at our destination that much more enjoyable.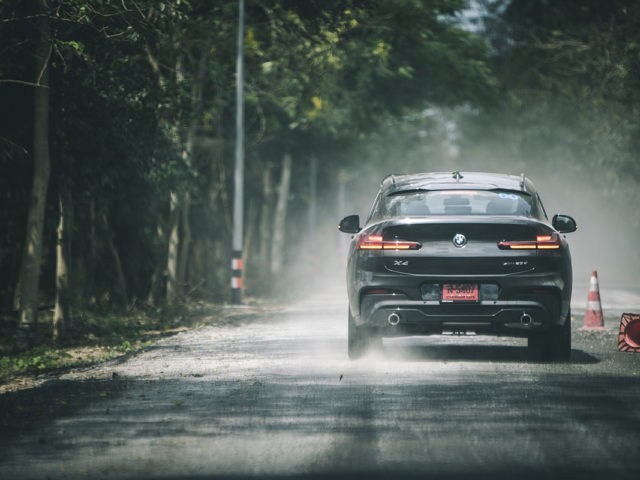 Upon arrival, the group was greeted by the usual gracious welcome led by Sunplay Asia's Managing Director, Chris Delaney. Similar to a previous trip, his team diligently prepared another memorable feast once more at their private villa—which you are allowed to enter only if you had been invited.
Aside from the lunch, Sunplay offered each guest a tour of their estate afterward that included an exclusive visit to their award-winning residential project that is about to be completed shortly. While the BMW team utilised the vast property of Sunplay for those clients who would like to sample some more driving of other machinery before it was time to head back to Bangkok.
All in all the BMW Scenic Drive had accomplished the mission of not only providing BMW owners with the experience of testing out other available models on offer, but doing so in a fun way to a serene private location such as Sunplay Bangsaray.
Special Thanks
All Photos by www.sleepy-nokkie.com