Grand Touring Involves…
The Very Best of Italian & German Cars
I do not want to begin this with the "Variety is the Spice of Life" thing because that would be too clichéd and too obvious –or maybe I already did? Well in any case after the success of "Grand Touring Involves…Absolutely British", which was the first in a series of our exclusive brunch whereby we invited selected number of owners to bring along their tasty examples of British automobiles back in August, we thought that we up the ante just a little bit for the next meeting.
Working in association with our friend Chris Delaney, the Managing Director of Sunplay Asia, the multiple award-winning luxury real estate developer for the beautiful resort town of Bangsaray in Thailand, we together decided to open up the proceedings by welcoming both collectors of classic and contemporary Italian and German cars. After all, both Grand Touring and Sunplay happen to love seeing fine looking automotive machines and meeting their owners—and the more they turn up the merrier. Besides the amount of effort that goes into preparing for an event for either 25 or 50 cars, we thought, was going to be more or less the same!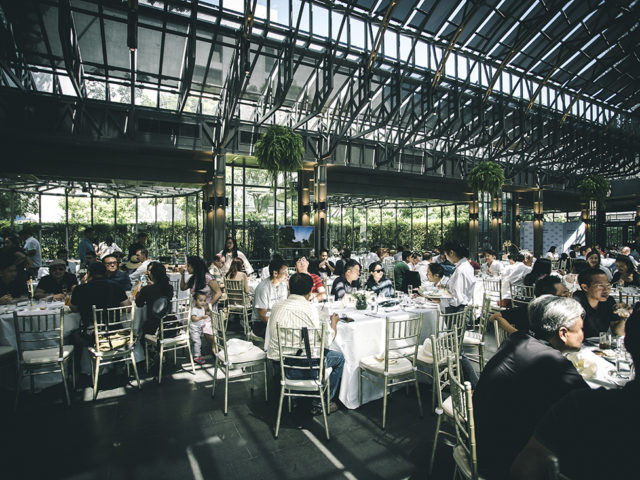 For our gathering to be memorable enough for those who had attended, the setting had to be just right. Hence where better to do so than at Nai Lert Park Heritage Home right in the middle of Bangkok? Their management was kind enough to prepare all the arrangements necessary, right from the menu that included both Thai and Western dishes suitable for brunch at their recently completed glass house where guests would be able to congregate, to the plotting of car parking spaces throughout the property. It so happened that our second "Grand Touring Involves…" event turned out to be the first of its kind to have so many cars allowed to enter within the grounds of this beautiful parkland.
Our day began in earnest (ahead of schedule, in fact) in the early morning of Sunday the 4th of November with the arrival of Surasee Bunkunpol's Ferrari 458 racing car, which won a race in the Thailand Super Series just a week before and took pride and place right in front of the entrance. Soon after, both the classics and the contemporary super cars from Germany and Italy flowed in continuously. Some of the featured Mercedes-Benzes that turned up ranged from Tira Sosothikul's stylish 1955 white 190SL W121 Roadster nicknamed "Genezis", Bunn Kasemsup's 300SE W112 Coupe Automatic from 1968 to Sombat Sirichatchai's very imposing SLR McLaren 722 Edition. While there were several notable BMWs that we had with us, the most standout on this particular Sunday would have to be the appearance of the Z8 in silver à la Tomorrow Never Dies—since it is one of only two known to exist in the Kingdom.
Porsche of course represented the bulk of German GTs with nice examples of vintage 356s from Sihabutr Xoomsai na Ayudthaya and his "Coco" with Ajnarong Ketvoravit's blue 356C. And while Anutraj Jotikabukkana turned up with his trusty 911E, his brother Bheema was there as well in his 944 Cabriolet. Also caught our attention was a pair of 50th Anniversary 911s of Boonyong Preechatangkij and Pairoj Sivapornratana—who both wore matching Martini Racing shirts as well!
Among the Italian Gran Turismos you can take your pick from a slew of Alfa Romeo 105 series, such as Thanapat Suvansarang's 1750 GTA recreation, Ataphol Vongkusolkit's 1970 1750 GTV Mk II with Pun Chavalitdhamrong and Pong Sottivoranan and their respective 2000 GTVs along with more Ferraris, such as Tispol Nakornsri's red on red 488 Spider and Kovit and Chonlada Thareratanavibool also with their 488 Spider. Of course quite a selection of contemporary Lamborghinis whose owners kindly accepted our invitation were also there, with several Aventadors alongside the one and only 40th Anniversary Murcielago in the country of Veraphan Thessomboon.
To describe who and what cars were there at "Grand Touring Involves…" in its entirety would require much more space in this instance. Because our target of 50 cars attending this "little" get-together of ours was surpassed—nearly twice over, as a matter of fact! While this may have created somewhat of a challenge in accommodating everyone who wanted to take part, it was much more gratifying to see more guests there than expected than not enough when you are the party host! What made it even more special also was the presence of His Excellency The Italian Ambassador to Thailand and his wife, Mr. and Mrs. Lorenzo Galanti, who were gracious in taking part of the official opening ceremony.
Somehow this whole idea of mixing great cars from two different nationalities turned out to be quite a blessing, particularly when many official car gatherings these days are either one make or the other.  Because it is not often that you get to see a Volkswagen Karmann Ghia Type 34 of Martin Hoontrakul and a trio of VW Beetles parked next to Chawapol Jariyawiroj's Ferrari 360 and a Lamborghini Gallardo Superleggera or Rithee Bunnag's classic Seventies BMW 3.0 CSi adjacent to a Porsche Turbo. Maybe for us at Grand Touring, variety is indeed the "Spice of Life".
There, I said it again. Only this time I meant it.
For more information on Sunplay Bangsaray:
Special Thanks
www.nailertparkheritagehome.com
4 Speed Classic
All Photos By www.sleepy-nokkie.com