Mercedes-Benz Racing Cars
at
Louwman Museum
Anyone planning to travel around Europe in 2018 and can spare some time during the 7th of July to the 2nd of September, it might be worth your while to drop by The Hague in The Netherlands this summer and visit the Louwman Museum. While many of you classic car enthusiasts may be familiar with the manufacturers' own museums or personal ones such as Peter Mullin's Automotive Museum in Oxnard over in California or the legendary French Schlumpf +400-car collection (now called Cité de l'Automobile) in Mulhouse, the Louwman Museum happened to house one of the largest private collection of cars in the world as well.
Since 1934 the Louwman family, who had been a major car importer into Holland for two generations now, have continued  to collect all types of vehicles ranging from trucks, buses and motorcycles along with cars that dated as far back as before the turn of the 19th Century (not to mention numerous automotive arts, memorabilia and related artifacts). Currently, there are incredibly over 250 examples on display on three separate floors which would require an entire day (or even more) for a person to view them all. As if these were not enough, the museum annually holds a special exhibition of historically significant cars of a particular marque (last year they featured McLaren cars) as an additional feature, which for this year that honour will go to Mercedes-Benz.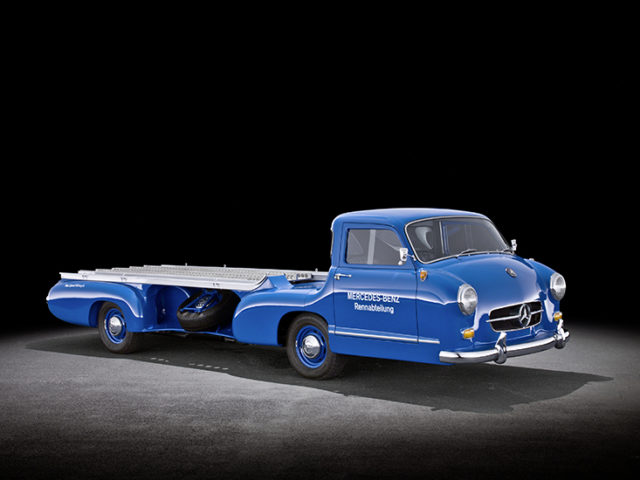 Called "Silver Arrows, Mercedes-Benz Racing Cars of the 1950s", the Louwman museum will be working with the Mercedes-Benz Classic department in bringing over six mouthwatering racers below (plus the famous "Blue Wonder" transporter) picked from Mercedes' own museum in Stuttgart that will highlight their golden era in post-war motor racing. No doubt they will all be an extra treat to anyone who would be willing and fortunate enough to visit them during those dates of this exhibition.
All Photos provided by www.louwmanmuseum.nl
1952 Mercedes-Benz 300SL W194
This is the second W194 out of only ten that were ever built when Mercedes-Benz returned to motor racing for the first time after World War II. Developed by its famous engineer Rudolf Uhlenhaut, chassis 0002 is the oldest surviving  300SL with an early version of the "Gullwing" door (though more like a huge side window panel that one had to lift up and then jump in!) since the very first car made was scrapped during its period (that is just sad…). This particular car interestingly was used more for tests and development and therefore was never raced.
1954-55 Mercedes-Benz W196R Grand Prix Car
For the Louwman Museum this W196R in particular may be of special importance locally because it is the very car driven by the great Juan Manuel Fangio to win the 1955 Dutch Grand Prix at Zandvoort.
1955 Mercedes-Benz 300SL "Gullwing" W198
Sir Stirling Moss and the 300SLR may have won the 1955 Mille Miglia outright but it should be remembered that Mercedes-Benz also took victory in the GT Class with another 300SL "Gullwing" Coupé. "417", denoting the car's starting time of 4.17AM, was driven by American John Fitch with his compatriot Kurt Gesell as his navigator in the race.
1954-55 Mercedes-Benz W196R  Streamline Body
Back when the Formula One regulations were more relaxed than it is today and with limited knowledge in aerodynamics, Mercedes-Benz thought a single-seater Grand Prix car with a fully-enveloped and smoother bodywork over its open wheels would be advantageous on faster circuits with long straights such as Reims, Silverstone and Monza with its banking. And so they developed several of these W196R streamliners for the likes of Fangio, Moss, Karl Kling and Hans Hermann.
1955 Mercedes-Benz 300SLR "Gullwing" W196S
"658" followed Sir Stirling Moss' "722" 300SLR home as first runner-up in the 1955 Mille Miglia, finishing over half an hour behind. It may have been driven by Juan Manuel Fangio, the five-time Grand Prix World Champion and perhaps the greatest driver of this era—but then Moss had navigator Denis Jenkinson (and his scrolling pace notes) as his secret weapon…
1955 Mercedes-Benz 300SLR "Uhlenhaut Coupé" W196S
Rudolf Uhlenhaut was still in the midst of developing the closed, "Gullwing" door version of 300SLR when Mercedes-Benz decided to withdraw from motor racing by the end of the 1955 season. So what to do? Rather than wasting such an effort at the office Uhlenhaut took it upon himself to turn this test car for his own personal use as the only 300SLR that was road-legal—thereby making it the fastest road car ever made for its time. A far more agreeable solution than leasing him a Company Car, we guess…