The Only One
Unnecessary Roughness
La Carrera Panamericana was one of the early original road races set during the romantic time of the 1950s, similar to the Mille Miglia and the Targa Florio. Held during the years of 1950 up to 1954, it was a border-to-border race from north to south (and in reverse direction in 1951) on the roughest roads and the most challenging terrains that Mexico can offer. In its period, La Carrera Panamericana was one of the most anticipated events on the world's motoring racing calendar, with entries comprising of huge but robust American racing sedans like a Lincoln or a Studebaker to fast and nimble European sports cars such as Alfa Romeo, Lancia, Ferrari, Pegaso, Mercedes-Benz and Porsche in its final years. With the length of over 3,500 kilometers, surviving La Carrera Panamericana was more the name of the game as it was probably the most brutal race ever organised (Ferrari once fielded eight racers during one year to increase its probability that at least one would make it to the finish line). Each race annually produced series after series of accidents, mishaps and tragedies (to both drivers and spectators alike) over the undulating sections high up in the mountains and on the many grueling dirt roads that after only five years, the Mexican government had to step in and call it a day.
Tough As They Come
Yet despite its terrifying reputation, La Carrera Panamericana did not deter many of the racing drivers from taking part at the time—and certainly not to a racing driver who happens to be a woman like Jacqueline Evans de Lopez. Back in the days when any  woman driving a car in a race was viewed with much skepticism and prejudice, along came Evans de Lopez, an English-born amateur lady driver who may have thought that competing against the boys in the most dangerous race in the world could be "a bit of fun" and probably wanted to find out first-hand what's all the big fuss with this road racing thing over 2,000 miles was about. The former actress in fact competed in La Carrera twice in 1953 and again in 1954 with her own Porsche 356, resplendent with an image of Eva Peron on the bonnet as a tribute to the late First Lady of Argentina for the '53 race. Historical results showed that although she failed to finish both times, she entered the races privately by herself, without the support of any sponsorship or crew—not even a co-driver/navigator to assist her during the journey. That alone is plenty to be a stuff of legend.
Revival Of The Fittest
In 1988, La Carrera Panamericana was revived once again. Although organised more as a celebratory event of its name and even allowing later cars to take part on today's safer roads, the new version is just as demanding, with over 2,000 miles over seven days' worth of racing (pretty much like it was before, really). The 13th to 19th October this year marks the 30th running of the "new" Carrera Panamericana and in the spirit of Jacqueline Evans de Lopez, Renée Brinkerhoff will be the only woman driver among the seventy or so racers in this edition, who will be attempting to drive her classic 1956 Porsche 356 under the Valkyrie Racing banner.
More Than The Race Itself
This year's event would not be Renée's first. She was thrown into the deep-end back in 2013—and came up a winner. "Our team and Porsche have deep roots in this seven-day gauntlet through Mexico. The Porsche Carrera and Panamera models are both named after this historic race, and our team made history in 2013 when we placed first in class – a feat never before accomplished by a woman driver in her debut year", she explained with pride. For Renée the 2017 Carrera Panamericana would be viewed as a retribution after the unfortunate mishap that befallen her in the same race two years ago, when the Porsche succumbed to a heavy crash during that year's qualifying stage.  Regardless of such setback (and with a minor injury), it was quite miraculous for Brinkerhoff to carry on with the 356 in such a state, "The car will abruptly start shaking; it feels like I don't have any control." She continued, "How the car's steering didn't give out is a complete miracle. At any moment I could have lost total control of the car. Many of the roads we traverse are unforgiving – if you go off, it's a long way down".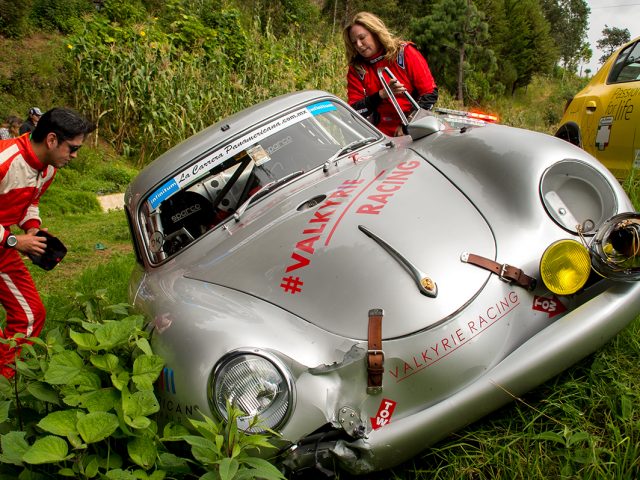 Back With A Vengeance
Having to forego last year's La Carrera Panamericana to totally rebuild her 356, Brinkerhoff and her Valkyrie Racing are not coming back just to be in this year's race but to compete with the same car on the team's very ambitious Project 356 World Rally Tour. This meant that the Porsche is scheduled to race in six races (with La Carrera being the first), over seven continents (including Antarctica) until year 2020. But before that Renée's focus along with her co-driver Roberto Mendoza would be on La Carrera for the moment, as she shared, "this race commands a lot of respect. It has earned its notorious reputation. To say I don't have trepidation this morning would be a lie. But I've learned fear can be healthy. We just have to master it. After our team's devastating crash in the 2015 running, we couldn't think of a better place to start our adventure than at the 30th anniversary of this iconic race."
I would imagine that Jacqueline Evans de Lopez could not be more proud of her.
All Photos Courtesy of Valkyrie Racing (unless otherwise stated)
Follow Valkyrie Racing & Renée journey on Instagram: @valkyrie_racing or Facebook: Renée Brinkerhoff